The spiritual path followed by the ancient sages (rishis) of India cannot be ignored in the present days of hectic restlessness. The ways of man to God, through spiritual exercises, are far more important than the worship of mammon. In this modern age of machines, man has lost faith in the powers of the mind and spirit attained through the practice of yoga and asceticism. There are a few sages in India who by the practice of yoga and mantra have attained great mental and  spiritual powers. One of them is His Holiness Mahatapasvi Shri Kumarswamiji.
H. H. Mahatapasvi Shri Kumarswamiji was born in 1909 on the day of 'Rakhi Pournima', at the village Hunshikatti, Belgaum district, Karnataka state, India. Shrimati Chinnamma and Shri Lakshman-appa, a pious married couple, were ardent devotees of a Sage Shri Rudramuni at Hunshikatti village. Even while being pregnant mother Chinnamma used to go and clean Shri Rudramuni's Ashram every day. Pleased with her devotion and service, Shri Rudramuni blessed the Mother and asked her if she wants anything. The mother said, "Bless me with a son who will bring glory and peace to the family." Shri Rudramuni said, "Yes, you will get a son who will bring glory and peace not only to your family but also to the whole world." Chinnamma was very happy and with that blessing she went away. But Shri Rudramuni's eyes became wet with tears because he could see the future and he saw that the Mother would not live to take her newly born baby in her arms – her son who was later to become a great Yogi, Saint and Gurudeva, Mahatapasvi Shri Kumarswamiji.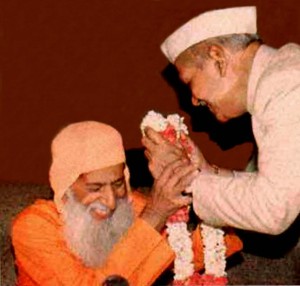 Ex Vice President of India Dr. Shankar Dayal Sharma garlanding H.H.Shri Swamiji, New Delhi, 1988
---
After giving birth to a baby boy,mother Chinamma passed away leaving behind a son. Ways of divine are strange! There was another mother, Neelamma in the same village who had given birth to a child and immediately after birth her child had passed away. So, here was a child without mother and there was mother, Neelamma, a mother without child. Elders in the village came together and decided to give child to Neelamma and thus Neelamma became Gurudeva's mother who cared for him long many years. Seeing Chinamma passed away, Lakshman-appa did not go to see his child as he thought child brought this grief to them. Once when boy was at his grand-mother's place in Bailhongal, fell sick so much so that nothing could be done. When father came to know this, he rushed to Sage Rudramuni and prayed for his son's health. With Rudramuni's blessings, child recoverd from sickness. From that time onwards, Father Lakshman-appa started seeing child regularly. But the ways of divine are strange! – soon after due to some illness, father Lakshman-appa too passed away. Thus child, kumar became orphan with no father and mother. He was mainly taken care of by his another mother, Neelamma and his grand-mother at Bailhongal."
From left to right

– Sri Rudramuni's palakhi, Hunshikatti Sri Rudramuni Temple, Hunshikatti Shri Kumar Swamiji's birthplace, Hunshikatti

In his early childhood, Shri Kumarswamiji was attracted to devotional worship and spiritual life. During his school days at Bailhongal, his maternal grandmother's place, his grandmother used to give him little pocket money every day. He would collect a group of friends and together they would worship Nandi (a bull, Lord Shiva's vehicle, also known as Maddi-Basavanna). Out of the money his grandmother used to give him, he would buy sweets and distribute them as prasad (consecrated food) among his friends. Grandmother came to know about that and said she would stop giving him pocket money and actually refused to give it on that particular day. Still, he continued with his worship at the end of which sweets or prasad appeared before all of them and this continued for 20 days. That miracle was taken as the prasad from Maddi-Basavanna and the news was widespread in the village. At the age of 10, he had a visitation from Lord Anjaneya, known as Lord Hanuman, the son of Anjani, who gave him a fruit. Upon eating the fruit, Swamiji's Pashyanti vani (sublime psychic energy) was awakened and he was able to remember his past samskaras (dispositions in past life). Lord Anjaneya is known as a deity with residing power of prana and is worshipped for attaining health, power, celibacy, a true discipleship and control over prana. At the next stage of his spiritual development, he started with the devout worship of Saraswati, Goddess Sharada., the Goddess of knowledge and wisdom, which awakened many latent divine powers in him, related to knowledge and wisdom, poetry and intuition. Having once offered 125.000 flowers to the Devi, he got enormous power and was able to interpret Satshastra of Shri Nijaguna Shivayogi. At the age of 18 and as the result of his worship of the Devi (goddess) kundalini was awakened and he had remarkable spiritual experiences. Another significant stage in his spiritual development was the attainment of the siddhi of levitation during his yogic practices at Navilteerth on the banks of the river Malaprabha.There he attained oneness with the ruler of Time and Space.
From left to right

– Shri Anjaneya at Bailhongal who gave fruit to Shri Kumarswamiji,  Naviluteerth

spot

where Gurudeva meditated in 1932  – now under Malprabha dam's back-water

All this speaks of Shri Kumarswamiji's innate quality of ardent devotion to the Supreme and a strong aptitude towards spirituality, yoga and meditation which were the guiding principles of his yogic sadhana (practice) throughout his life. The inclination towards yoga had given him a broad and universal outlook and above all a calm, collected and well-balanced attitude towards all things and all people. The dynamic personality of His Holines Shri Kumarswamiji has many facets. He is a great yogi, a philosopher, a humanist, a writer and a social reformer. He emerged as one of the great spiritual leaders of the world and was an ardent peace lover. He graduated in 1932 and was ordained in 1933.  Shri Kumarswamiji performed 1 year penance in Naviluteerth at the bank of river Malprabha. Naviluteerth was a beautiful place with river and a thick forest around – a perfect place for Gurudeva's sadhana. Here in 1932 he experienced oneness with the ruler of Time and Space. His sadhana was disturbed when shoe-makers in the local area started coming to river to clean animal hides for processing to make shoes and sandles. The odor of dead animal skins left for drying by the side of river disturbed the peaceful, calm and serene atmosphere. Gurudeva then left Naviluteerth and moved to Dharwad.